Branding Pakistan. Dare to dream so big that it scares you. Branding Pakistan in India post 9/11.
Leaving Your Comfort Zone
Besides, does that make me crazy or scary? Perhaps both. For the reason that this may be assessed from a fact. After 4 years (1999-2002) of Co-Founding one of the fastest-growing #advertising agencies Synergy, because it was someone else's dream, I quit. One can normally attribute this to behavior factors. First of all to stress and consequently work-life balance. However for me, the incompatibility of my dream with an otherwise successful business is the only reason that matters eventually.
I was only 26 when the agency was conceived therefore my reason for being was never about the profits. Having won several accolades in marketing, it was fast becoming a habit leading to complacency. For me advertising practices were not creative enough. Servicing someone else's vision overtime is not my cup of tea.
Pakistan Post 9/11
This was my launching pad and a vital one for remaining true to a vision. Post 9/11 challenges and the subsequent war next door in Afghanistan. Honestly, there is no desire to rewind. Agony of what most liberal-minded Pakistanis felt in those days. However, our neighboring Indians with whom we share a common history and language were having a field day. Daily news bulletins perhaps settling old scores in the backdrop of biases. When most of the western media was unable to differentiate. Between an average Pakistani from Afghans or for that matter Saudis.
It hurt, the psyche of a nation caught in a fight which is widely believed to be never theirs. Primarily because we had to suffer in the past with the US-Afghan Russia war and ditched later. Yet being made to work all over again for restoring the national pride of Uncle Sam, whose war it was, to begin with.
I could relate to this feeling of having lived someone else's dream as Deja Vu.
Daring To Dream Big
I had a dream and therefore decide to pursue a path based on conviction. Mind you this is 2 decades ago. Fortunately, there is no one bootstrapping this venture up for me including my parents who are doctors. Although I have always looked up to them for wisdom. Besides there were seniors in my professional life mostly from media and advertising industry. The fortunate part is I did not take their advice.
Going against the conventional wisdom keeps me moving. Even though it makes sense to consider. If someone is comfortably leading a business in his own country. Why should they pursue an alien territory? without any support structure.
Dubai and My Dream
DMC in its infancy. A hub for leading professionals licensing in #media at large. Remembering the year I got mine. There are only 49 producer licenses available for the entire world. If one is not mistaken, mine among the first ones coming from Pakistan. It took me a year from pitching the idea and company portfolio.
At the age of 30. My Producer license as Brand TV was established in 2003. At the newly launched and much hyped Dubai Media & Internet City. As a result, it helps me work towards my dream.

Branding the best of Pakistan in India at one of its finest.
When you find yourself in the company of strangers from all over the globe competing for the same pie it can get suffocating. Competition becomes intense. The pressure is at the most. You are on your own. It is at this moment that some of us realize the importance of resilience with peace. Which is often cultivated in abundance within an environment that is a breeding ground for #talent and #creativity. However, this wasn't it. Dream. Dare to dream big.
Branding Pakistan
Therefore, it appeared to be a better way to go about this is to plant the seeds of collaboration. Most of my colleagues were predominantly from India. Dubai was on its way to becoming a fashionable destination those days. With media attending events almost every weekend from red carpets to shows, concerts, etc. Fashion was always an icebreaker with men & women alike. A style statement at such gatherings. That's the path I took based on practicing observation.
Why Not? DO IT in India for Pakistan
Dream? Crazy? Scary? Consequently one experiences all of them. To make matters worse. I have never been there before. Just imagine. Branding Pakistan in India Post 9/11. Therefore, going to war is much simpler if you know anything about us and them. However, it was peace that won for the time being.
This led me to finally understand the phenomenon called reverse osmosis, my science teacher would have been so proud of me had she heard how passionately I would attempt to sell my dream.
Hence, Allah is kind and truly so considering my situation. Negotiated with stakeholders in Pakistan + India to Co-Produce Pakistan's First Fashion & Textile Industry Show at the Femina in Mumbai.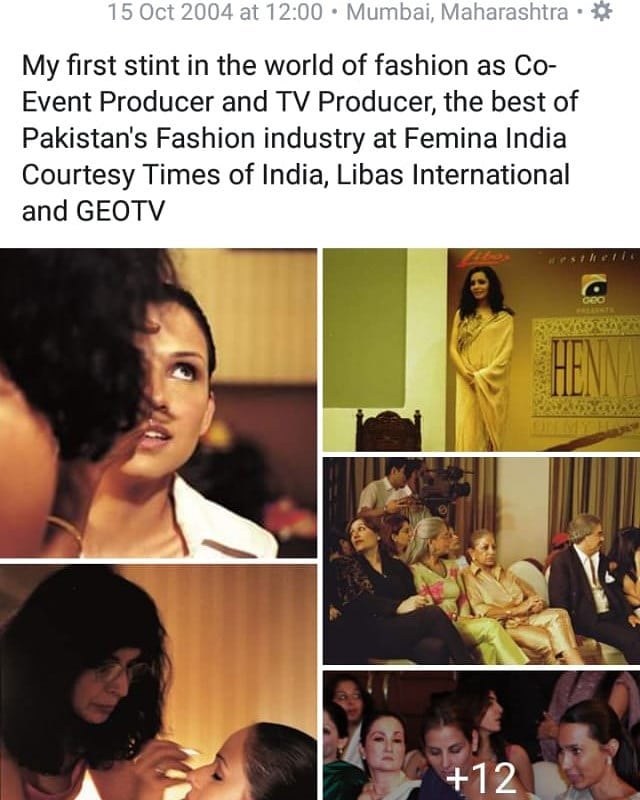 Below are the links to the complete story
Also published on Medium