Cinema in Pakistan has been a struggle for certain genres like family with kids before 2010. The ticketed movie goers just did not show up in large enough numbers to sustain viability at the box office. Until one movie and its marketing changed it all.
RIO THE MOVIE (2011)
The blue sky and 20th Century Fox"s RIO achieved trailblazer status in Pakistan. Primarily due to its unprecedented marketing strategy including commercial deals of magnitude never seen before. Asim Qureshi remembers "We pitched the licensing concept to English Biscuits based on their long standing brand Peak Freans RIO and they agreed to support with one of the most iconic brand partnerships for cinema in Pakistan. The marketing success story is also reported in Dawn Aurora as a case study and Express Tribune leading english dailies.
Distributed by Mandviwalla Entertainment and Marketed by Asim Qureshi's Starring Brands in Pakistan. The movie RIO created record success not only at the box office but also in the world of advertising and brands. Founder Asim Qureshi was invited by leading companies to share the case study as also reported by press. Hence, opening the doors for brand partnerships on the largest scale for Cinema in Pakistan.
Ice Age Franchise (2012)
The next year is dominated by the Ice Age Franchise.With brands and Cinema already aligned. Asim Qureshi is once again called in to help licensing the movie partnership on behalf of Omore Ice Cream Engro Foods. Working in tandem with advertising and media agencies. The Starring Brands Founder advised on all spheres of movie marketing to help deliver. Yet another outstanding success story for Cinema Genre Family With Kids.
EPIC (2013)
For 3rd year in a row a 20th Century Studios film dominated the box office commercial deal. Epic a 2013 American computer-animated fantasy action-adventure film loosely based on William Joyce's 1996 children's book The Leaf. The brand Kolson Slanty partnered with Asim Qureshi's Brand Cinema who was engaged bu Geo Films to help market the film.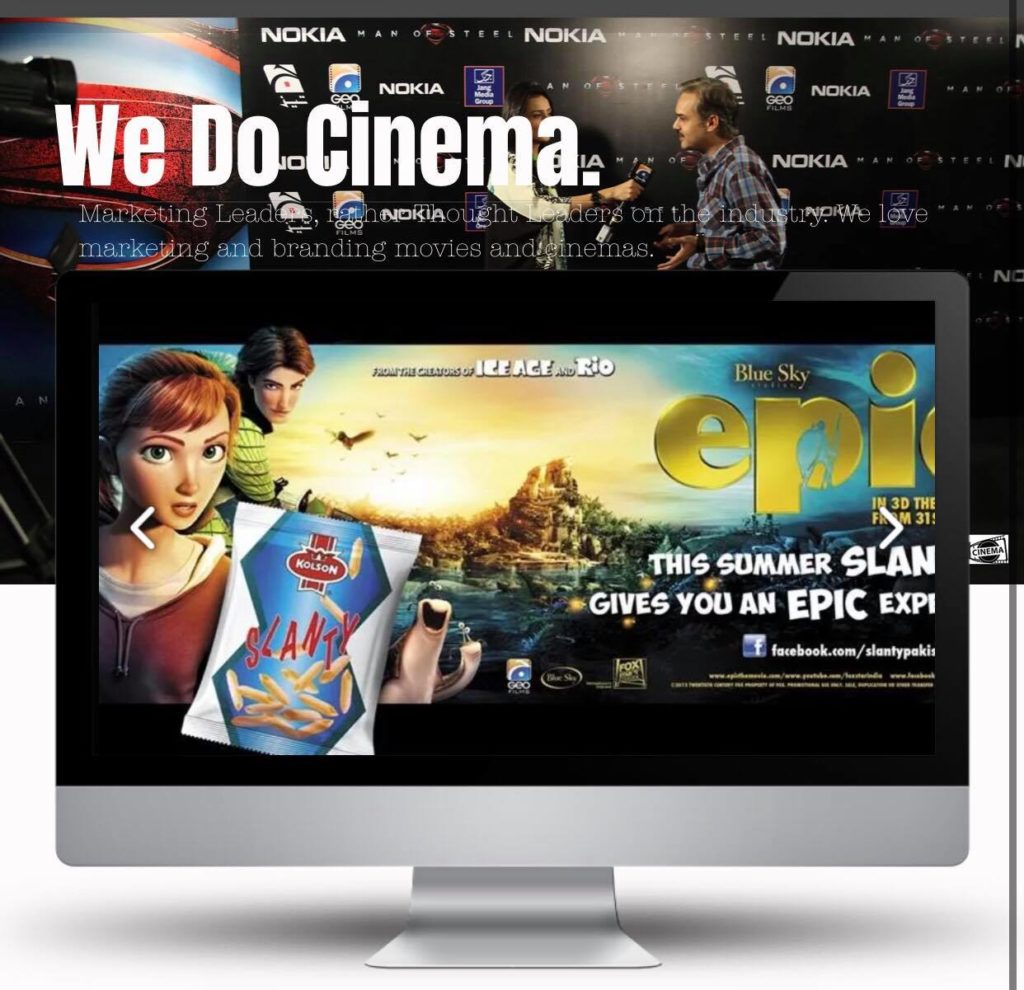 The rest as they say is history.
In Conclusion. The goal of any theatrical movie marketing campaign is to get people into the theater in order to spend $10 to $15 and grab a seat for two-plus hours.

Starring Brands
More Press
Animated Young Lot Arrive at Red Carpet – Express Tribune