The music streaming boom in 2020 means there has never been a better time for artists. To sell their rights as music publishing is at its peak. Most countries affected by COVID-19 lockdowns increased in users who engage digitally live streaming via platforms. 
Unlike in Pakistan, the rights to songs produce royalties for various types of licensing and usage. On the radio, covered by another artist, sold on CD or vinyl, or licensed for TV shows, commercials, or films. The four main royalty types include
Mechanical
Public Performance
Synchronization
Print Music
The music industry relies on these royalties as a primary form of payment to musicians.However, streaming has overshadowed that all this year. Moreover, the increasing popularity of local content on these platforms is driving market extension. 
Music Streaming Global Market Analysis Report
According to Grand View Research, The global music streaming market size was valued at USD 20.9 billion in 2019 and expanding at a compound annual growth rate (CAGR) of 17.8% from 2020 to 2027. The current market size is estimated at US$24.4 BN.
The audio segment dominated the market, with a revenue share of more than 60.0%. The rising demand for audio content is due to consumer preference while commuting, exercising, or doing household chores. 
The rise in the number of service providers and the wide-scale penetration of smartphones across all the globe is positively impacting the market growth.
Spotify's can lay claim to 36% of the global streaming market. At the time of this writing , 140 million of these are Spotify Premium subscribers. Average hours spent listening to Spotify per month stands at 25 hours. 44% of users listen to Spotify on a daily basis. Over 70 million tracks available on Spotify.
Artists are also going live on video streaming platforms such as YouTube Live, Facebook, Instagram, and Twitter. This trend is adding fuel to the fire in online music consumption and revenue streams.
Artistes, Royalties and Music Streaming
The vast majority of modern artists are cash strapped. One reason is that streaming services aren't lucrative for artists unless they're chart-topping names. Music streaming services like Spotify, Apple Music, Deezer, Tidal, and Amazon don't have a fixed "pay-per-stream" rate. 
Numerous factors affect how much a stream is worth in royalties. These include:
– The listener's country and location
– Whether the listener has a paid subscription or free account
– The specific artist's royalty rate
– The relative pricing & currency in different regions
The table below provides an estimate of music streaming royalties per 1 MN streams as an example published on Diito Music . Based on an independent study data from the USA.
| | |
| --- | --- |
| Platform | Royalty |
| Tidal | $ 12,500 |
| Apple Music | $ 7,350 |
| Deezer | $ 6,760 |
| Google Play | $ 6,760 |
| Spotify | $ 4,370 |
| Amazon Music | $ 4,020 |
| Pandora | $ 1,330 |

Chart on Royalty Estimate. Not 100% accurate. Use only as a guide.
That is to say, your song makes a million streams, but keep in mind that some platforms with lower royalty rates may have more users and a wider reach. So a stream from them might be worth more in terms of exposure and profiling.
Gold Fever and Catalogs
As recently reported by The Guardian. "Bob Dylan's surprise move this week to sell the publishing rights to his 600 songs, made more than 300 mn, was described by the buyer, Universal Music, as "one of the most important deals of all time."
Last year, more than $4bn on buying artists' music catalogs, according to MIDiA Research. That number has boomed this year. Thanks to investors looking to cash in on the increasingly valuable returns of golden hits. The focus is buying while the songs available are at attractive prices.
Key factors that are driving the music streaming market growth include:
The organic selection of digital music services
The surge in local online content consumption
Tech-based advancements in the music streaming industry.
It's improbable to measure how much an artist can make from a certain number of streams. At the same time, it's important not to think about streaming services solely as money-making platforms. However, they offer a direct route to new and current fans.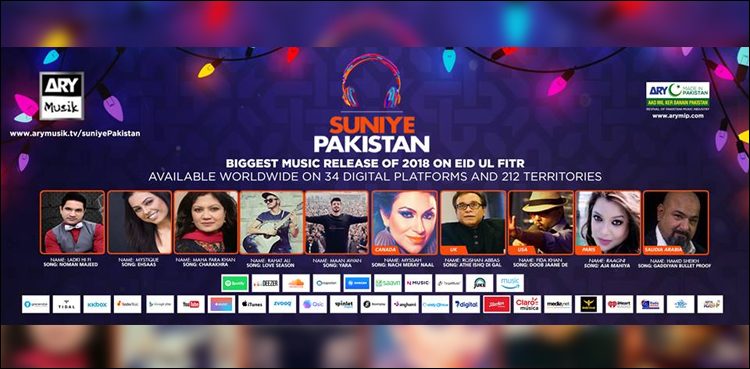 Therefore, a digital transformation at ARY Musik television achieved just that in 2018. Achieving the biggest (footprint) in music releases worldwide from Pakistan. Streaming on 34 leading audio and video digital platforms(including Spotify) under the Suniye Pakistan catalog. Introducing new and original songs from Pakistanis all over the world. Made possible largely due to a visionary, Chairman ARY Mohammad Iqbal, and a dedicated team.
Conclusion
To sum up, unforgettable music will sell even at ten times the price. Perhaps for years in a post-pandemic world before the market actualizes. The music streaming boom has finally arrived and soon, the likes of Spotify are to enter Pakistan. A music market rich in its potential for listeners globally and so far underfunded and largely untapped on music (audio) streaming.
Let us make the most of 2020 and beyond.
This blog post is written with Inputs from various sources including Asim Qureshi. FOUNDER Starring Brands. A pioneer in marketing entertainment A Former CEO at Pakistan's Leading Media i.e ARY and Jang Group.