Observe to learn are golden words. I can never forget how they helped me.
Everyone has a dream and mine was in the "don't even think about it" category. You can read all about it here Branding Pakistan. Dare to dream big.
Conventional Wisdom
The year 2004 remains a in memory as a watershed moment. Both Pakistan and India found several fronts opening. Be it political or cultural. In my observation, the conventional wisdom was on capitalizing on the Indian cricket team's visit to Pakistan. Beyond it everyone seemed to struggle with a roadmap. At least I learned so. Therefore, my focus shifted based on certain values in branding. Towards the eye of the storm i.e India.
Observe To Learn: The Opportunity
This approach led me to discover the most fundamental of questions. Asking myself "what could be the one thing that creates an impact beyond cricket, Bollywood, and politics.?" Moreover, what can make the not so ordinary and the one and only speak volumes. Making a fashion statement from Pakistan. The answer was obvious.
Convincing (political) rivals from both sides of the border to open up to the possibility of working together.
Focussing on achieving mutual victories and synergies.
Inspiring Pakistan and India to DO IT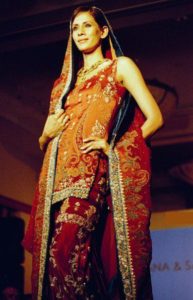 Best of Pakistan in Best of India
The company of the finest minds works as a catalyst. The possibilities are endless when synergy is in motion. At the same time, constant networking due to the buzz around the #indiapakistan cricket revival brought hope. A desire to make history with peace, positivity, and progress. Showcasing to the world what Pakistan also stands for especially post 9/11. Because I was keenly networking with leading fashionistas and influencers. The answer came eventually from India. For the reason that its fashion. Probably the timing was right too and the rest is history.
Practicing Observe To Learn
Allow me to rephrase. Narrowing down the importance of timing. Together they are indeed a recipe for success. Essential for leaders to execute with resilience. When there is no limit to progress practicing observation helps in redefining benchmarks.
Unique Selling Proposition: WHAT HAS NEVER HAPPENED BEFORE?
Observation is key to learning
Therefore. Ask the right questions
Likewise. Don't be afraid to make mistakes
Hence. Try Try and Try Again To Discover
As a result, Branding Pakistan FASHIONABLY you can open doors which seem closed before.
Finally, after doing it twice in India for Pakistan. I can say with some degree of confidence. It is easier on both sides to make war. In contrast, you are lucky to find the right influencers. Ask them for advice with a keen sense of learning. Consequently, find the middle ground which benefits both parties.
Furthermore, believe that nothing except the will of Allah (SWT) can stop a person who knows where he is going. DO IT.
Also published on Medium