According to Twitter, study consumers want brands to connect with what's happening. In other words, they want them to be a part of their culture.
Gone are the days when media and brands were forming it i.e. popular trends. Today the people form the story and not just the opinions around them.
Moreover, it further explains "What happens behind closed doors, quickly finds its way into the mainstream. Therefore, your brand needs to connect with what's happening."
Brands and mass media are no more the gatekeepers of conversation. Today, millions of people are participating in the two-way live, public, open conversation happening on Twitter every day.
Twitter Marketing In Pakistan
According to Google Trends, the popularity of Twitter in Pakistan grew in 2010 ( and reached its summit in September 2014. However it has not been a favorite of advertisers. But, Asim Qureshi Founder Starring Brands believe Twitter Marketing has its own Pros and Cons. Such as :
Twitter ads are a bit more expensive than facebook but
Ads are effective to boost engagement with the culture and trends
For Niche Audiences ranking high on education, income and perhaps also intent
Twitter also informs us that
. Brands' engagement in culture is particularly important to the age group 18-35.
. When these Twitterati's are deciding on purchase their thoughts are not limited to just price and quality.
. In fact where the brand stands on cultural relevance + staying current + giving back.
. A brand's cultural involvement makes up a full 23% of a consumer's purchase decision.
The study reveals that people want to go beyond music, sports, and popular events. They are also assessing just how much a brand reflects their interests and supports the issues they hold close to their hearts.
Such as:
. Diversity
. Gender Equality
. Fair Trade
While there are several ways for a brand to be included in culture, the best ways are reflected in the chart below.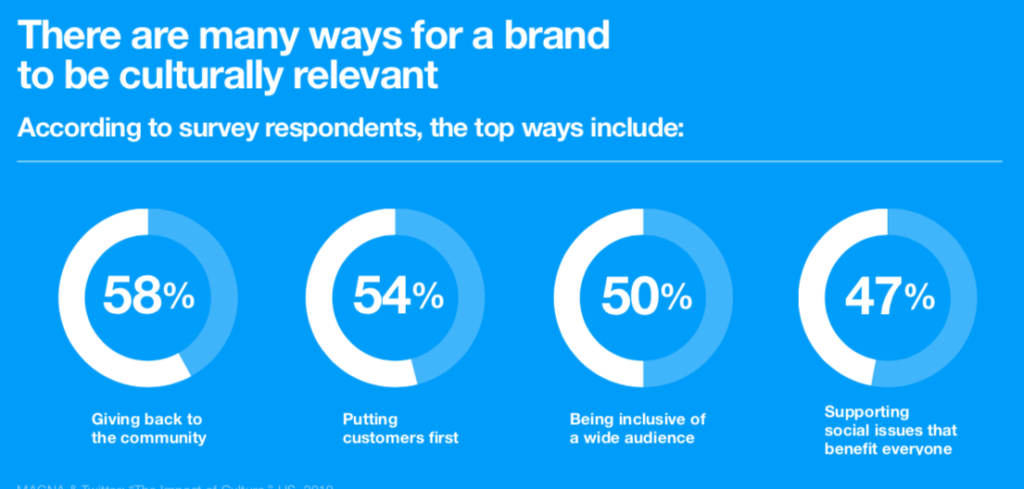 In Conclusion, head on to Pitch Twitter To Clients in order to get a more detailed account and some precise marketing decks. The inspiration of this blog.
Latest posts by Fatima Khan
(see all)