Watch The Video To See History Unfold
Creating history by launching Pakistan Fashion Week and branding Pakistan internationally, officially. The very best of Pakistan at the very best of an official IMG Fashion Week circuit event. The Lakme Fashion Week is attended by the world's leading fashion buyers and media and so was the launch of PFW in 2007. Led by none other than Asim Qureshi.
Creating History Pakistan Fashion | Inspiring An Industry
For the reason that, if one is to narrow it down to a collective dream of many. As a result, a narrow focus on the vision is a prerequisite to success.
Therefore, a majority of designers registered for training workshops held in Lahore and Karachi. Conducted by the IMG Asia Pacific and organized by the Jang Group. Consequently, making a landmark statement for an entire industry. Learning the format on the business and trade of fashion. Presenting a country's style internationally in a language that is understood for a global market audience.
A rare moment in the backdrop of the post 9/11 war on terror. Furthermore, to D.O.I.T (TWICE) for Pakistan in India's at one of the world's leading media and fashion platforms is priceless.Creating history launching Pakistan Fashion Week and Branding Pakistan at its best with for its fashion and textiles in the times to come.
The month of October remains common in these remarkable years of 2004 and 2007. Launching an industry closer to its first fashion week and a global marketplace.
Pakistan Fashion Week | Branding Pakistan In India
A Story Of Resilience. Branding Pakistan and to Do It internationally at a totally different level. In terms of planning, execution, and inspiring teamwork. For those who believe events like these are in the best of interest. 
Even more, is the order of how this story unfolds. Please read accordingly.
The analogy is similar to cricket where an ICC accreditation is a must for cricket and its records to be recognized globally. Definitely in the case of Pakistan and its fashion industry it is the first time this happened and is recognized as Pakistan Fashion Week on the circuit. Therefore, making dreams come true for many in the business of fashion, branding, and media.Critically important for the ready to wear fashion and textile industry based in Pakistan in terms of exports and local market expansion.

asim qureshi
Inspiring Pakistan and India to DO IT
It took resilience followed by leadership, lobbying, salesmanship, and diplomacy. However, doors were not as easy to open back home. Today it is a norm. When we made it happen this idea of Pakistan Fashion Week was merely a Dream.

asim qureshi
Certainly, a watershed moment in history.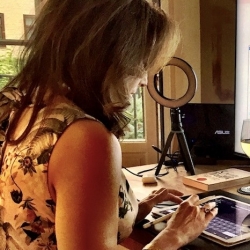 Latest posts by Maria Umer
(see all)