Watch The Video To See History Unfold
The Vision of Pakistan Fashion Week
Launching Pakistan Fashion Week (PFW) and branding Pakistan internationally is a commendable initiative. Showcasing the country's vibrant fashion industry. Promoting its talented designers on a global platform. Asim Qureshi, a prominent figure in the media and fashion industry, leading this endeavor. Adds credibility with his track record of doing it twice in India for Pakistan. An unmatched expertise in Pakistan's fashion industry.
A rare moment to D.O.I.T (TWICE) for Pakistan in India's at one of the world's leading media and fashion platforms is priceless.Creating history launching Pakistan Fashion Week and Branding Pakistan at its best with for its fashion and textiles in the times to come.
Hosting PFW as an official IMG Fashion Week circuit event ensures that it gains recognition and attracts top fashion buyers, media professionals, and industry influencers from around the world. This exposure provides an excellent opportunity for Pakistani designers to showcase their creativity, craftsmanship, and unique cultural influences to a global audience.
Similar to the impact of the Lakme Fashion Week's launch in 2007, PFW can serve as a catalyst for the growth and development of Pakistan's fashion industry. It can inspire emerging designers, encourage collaborations, foster innovation, and create economic opportunities. By establishing a strong presence in the international fashion scene, Pakistan can enhance its reputation as a hub of creativity and contribute to the country's overall branding efforts positively.
Therefore, a majority of designers registered for training workshops held in Lahore and Karachi. Conducted by the IMG Asia Pacific and organized by the Jang Group. Consequently, making a landmark statement for an entire industry. Learning the format on the business and trade of fashion. Presenting a country's style internationally in a language that is understood for a global market audience.
Creating History Pakistan Fashion Week
By creating history with Pakistan Fashion Week, inspiring an industry, and establishing a strong international presence, Asim Qureshi and the team behind PFW can contribute to the growth and recognition of Pakistan's fashion industry while promoting the country's cultural heritage and talent on a global scale.
The month of October remains common in these remarkable years of 2004 and 2007. Launching an industry closer to its first fashion week and a global marketplace.
For the reason that, PFW can also play a significant role in promoting cultural exchange and fostering cross-cultural understanding. Fashion has the power to transcend borders and break stereotypes, allowing people to appreciate and celebrate diverse perspectives. By presenting the "very best of Pakistan," PFW can showcase the rich heritage, craftsmanship, and modern design sensibilities of Pakistani fashion to a global audience, fostering appreciation and respect for the country's culture and traditions.
To ensure the success of PFW, it is essential to have a well-planned and organized event that caters to the needs and expectations of both local and international participants. This includes curating a diverse range of designers, creating engaging runway shows, hosting networking events, and providing business opportunities for designers to connect with buyers and industry professionals.
It took resilience followed by leadership, lobbying, salesmanship, and diplomacy. However, doors were not as easy to open back home. Today it is a norm. When we made it happen this idea of Pakistan Fashion Week was merely a Dream.

asim qureshi
Even more, is the order of how this story unfolds. Please read accordingly.
Observe to learn
The analogy is similar to cricket where an ICC accreditation is a must for cricket and its records to be recognized globally. Definitely in the case of Pakistan and its fashion industry it is the first time this happened and is recognized as Pakistan Fashion Week on the circuit. Therefore, making dreams come true for many in the business of fashion, branding, and media.Critically important for the ready to wear fashion and textile industry based in Pakistan in terms of exports and local market expansion.

asim qureshi
Certainly, a watershed moment in history. Inspiring Pakistan and India to DO IT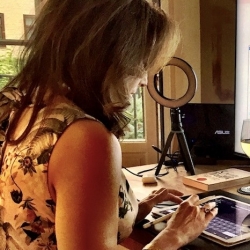 Latest posts by Maria Umer
(see all)