The year 2004 is documented in history as one of the most inspiring. To do and become more than normal between #indiapakistan. Cricket plays a pivotal role in bringing us together. India's coming to Pakistan after a gap of 12 years made the difference. The environment became friendly on both sides. Rewind! An opportunity is there to be taken. Therefore also read my blog Observe To Learn
Dubai to Mumbai
Dubai's media fraternity is certainly dominated by Indians. It took exceptional networking and luck to convince their decision-makers. The first visit to Delhi is usually sufficient to teach us historical synergies. While politics rules, fashion, music, history, and spots are a bond worth exploring. Furthermore, it helps in meeting like-minded souls and in my case the editor of Femina. A leading and most respected fashion publication based out of Mumbai. They were looking to differentiate an upcoming event. Scheduled for October 2004 in the backdrop of #indiapakistan.
Moment of Inspiration
This is when an idea turns in the shape of collaboration. What if the event opens with a breadth of fresh air.
A refreshing plethora of absolutely stunning designs, from across the border. Has anything like this ever happened before?. That is why it worked. One of India's highest platforms became interested.
They also agree to my proposal of bringing a Pakistani fashion magazine as an equal partner.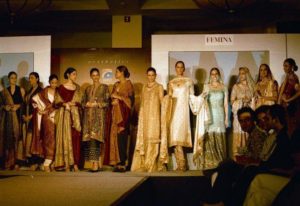 The Paradox
However, doors were not as easy to open in Pakistan. I witnessed more negativity while talking to designers and journalists back home. Yes! I am accepting this with a heavy heart. There were attempts to stop me from a certain lobby mostly in Karachi. A city I was born and have lived in most. An industry divided between Lahore and Karachi.
Thankfully I found someone who could rise above all this and do it for Pakistan. She helped me for the sake of Pakistan and the Future Of the Fashion Industry. In fact, without questioning us or them.
Mrs. Sehyr Saigol publisher of Libas International became my inspiration. An equal partner from Pakistan side by side Femina India. International experience teaches one the value of synergy. For me, it always makes more sense. Talking with like-minded people, visionaries, and influencers. With an audience featuring #media, #fashionistas and #film stars.This was just the tonic. To convince the best of #fashion gurus from #Pakistan. A first of its kind debut as an industry across the border. Moreover, it helps raise vital sponsorship from none other than Geo TV. A Pakistan TV Partner for the event.
The Learning
The essence of true salesmanship lies in mutual benefits. One must let go of the I and me by focussing on us. Naming the event as Femina Libas helps. Featuring the likes of Bunto Kazmi, Sana Safinaz, Nilofer Shahid, Maria B, and many more thanks to Libas. The Indian press the next day was only praised with phrases like Goddess and Queens of Couture. So was the trade.
All this had never happened before. Despite all the negativity, issues, lobbying, and whatnot. A first step was put forward into the ultimate dream. Fashion Week. Consequently, Pakistan WON!!! Allah (SWT) is Kind.
Rest as they say is history.