Bespoke and consistent content in the digital space and media is ever-evolving. Consumers want the most direct, fast, and concise message possible. Which brings us to the story of today's ever-growing thirst for video content, and youth usage.
The Rise of TikTok
One of the notable trends in the world this year. With the influx of platforms such as TikTok, the east has truly met the west. It has now 2.3 billion all-time downloads. Another significant circumstance is its focus on localized content. Videos created on TikTok earn 17 billion average monthly views. If your brand's target audience includes anyone between the ages of 13 and 40, you should be on TikTok right now.
The Rise of 'Story' Format
The story has been adopted not only by Snapchat but also by Instagram. Add Facebook, WhatsApp, Youtube, and most recently by LinkedIn and Twitter. However, brands and users can now do much more than just post 15-second stories. Instagram allowing users to design their filters. So others can use them in their Stories. Therefore, brands now have the opportunity to build engaging and happy experiences for their customers.
The Rise of in-game advertising
If you have played Fortnite or any other popular game in 2020, then you know what we are talking about. It can be annoying to watch a 30-sec ad to keep on progressing in your game. Undoubtedly one of the most common practices. Initiated by developers in partnership with brands, to keep their game free of charge. As copypress puts it
"Content marketing seeks to earn its audience by giving something of value and not just advertising i.e usually aimed at a rented audience."
However, we expect branded content and its journey in the gaming environment perhaps more valuable.
The Rise of programmatic ads via artificial intelligence (AI)
Thanks to OTT, advertisers can expand their audience reach that previously was only available on traditional TV. OTT advertising is a targeted ad delivery on Internet-connected TV sets enabled by the internet. According to smarty ads, experts predict that the money coming from OTT ads will increase anywhere from 45-60%.
Another example is the use of voice search and voice commands for commercial purposes. We can expect brands to be interested in their voice apps for use on voice assistants.
The Rise Of Video
"Video display's growth is also strong, increasing 3.6% in 2020 as social media ad units drive growth in the format." eMarketer
For the consumer, one of the biggest benefits of OTT is being able to stream content over many devices. Such rise of content in a digital world is offering more opportunities than ever. To have specifically engaging and targeted conversations.
Gaming is also likely to keep on being a trend for brands along with the use of video and voice in an artificially intelligent world.
TikTok has never revealed its core AI algorithm to the public but the gist is easy to grasp even by just using the app. We are expecting easy-to-make, easy-to-watch, short-form video ads to become more popular than ever before.
eMarketer's Global Digital Ad Spending Update Q2 2020, also paints a picture for advertising amid the coronavirus pandemic. While worldwide digital ad spending will achieve a modest 2.4% growth this year, it's expected to bounce back with a growth of 17% in 2021. Video featuring prominently.
Content Marketing and Not Just Advertising
Conclusion: Puts your audience first.
So, in our view, think content marketing and not just advertising in 2021 and beyond. In other words. Be customer-focused, not company-focused.
Let your customer decide when they trust your DNA enough to buy from you. Let the gamers find and earn your brand if it helps them progress.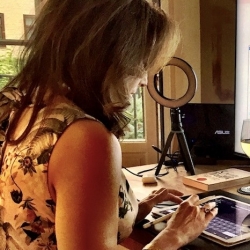 Latest posts by Maria Umer
(see all)