The OTT Streaming platform trends are not a reality just yet in Pakistan. Probably won't be unless smartphones and the internet make streaming affordable for the masses. Although digital video consumption is shifting from offline to online. Pakistan is still in the very early stages of OTT adoption and streaming services.
Despite the government's promotion of the internet and expansion of universal internet access throughout the nation over the past decade, internet penetration has remained relatively low in global terms.
The figures are updated for 2021 post original posting of the blog.
There were

173.2 million

mobile connections in Pakistan in January 2021.

There were

61.34 million

internet users in Pakistan in January 2021.

The number of internet users in Pakistan

increased

by

11 million

(+21%) between 2020 and 2021.

Internet penetration in Pakistan stood at

27.5%

in January 2021.
The ball seems to be in the court of mobile operators:
Either through significant cuts in mobile data pricing,

the launch of affordable unlimited bundles,

or zero-rating partnerships with OTT providers.
Telcos are holding the key to the future of OTT viewership gaining critical mass.
OTT stands for 'over-the-top,' which in media terms refers to distribution over the internet. We are living in times where even broadcast TV is likely to be Streaming via OTT. The industry is growing with audio and video live streaming becoming more robust. Meanwhile, innovating on offerings from leading brands in the business based on the behavior of consumers
When it comes to streaming local Pakistani content , YouTube is the king . Head over to the Think with Google Infographic Youtube Pakistan's Most Popular Online Video Platform. Streaming sports and tv series (dramas) are mainstream activities.
Homegrown OTT Streaming apps for premium content are still in their infancy are far below the top of mind radar.
Pakistan is neglible and still far on the radar of most OTT brands.The market dynamic is a different ball game altogether when seen in light of limited 100 k Netflix subscribers and mostly shared through borrowed passwords. While both Netflix and Amazon Prime launched together in 2016, the market share is noticeable.

Till now, Netflix has ruled the premium streaming market in Pakistan . In terms of value, there is no doubt that Netflix has emerged as the winner. Amazon Prime will need to offer better content and provide much ease in the navigation of the app and better pricing plans, to be seen as a threat to Netflix.
Also, most Pakistanis do not use credits cards and online payments acceptable by several OTT subscription services such as:
Paypal
Apple Store & Google Pay
Virtual Cards
Gift Cards
Partner Payments etc
A critical reason why the streaming giant is not acquiring original Pakistani content. Besides bollywood being just next door.

The recent entry of Spotify in the audio and music streaming app space in Pakistan speaks volumes. You can read about it in our blog .

Music Streaming Boom: 2020 and Pakistan
In India, consumers are increasingly turning to on-demand service providers. Hotstar Disney is leading by far and followed by Jio TV.Netflix subscriptions are still not anywhere in the top 3. Several regional OTT platforms were launched or announcements to this effect were made in 2020 across India. The list includes Aha (Telugu), CityShor TV (Gujarati), Planet Marathi and Letsflix (both Marathi) and Talkies (Tulu, Konkani and Kannada). Some stream curated content, such as short films, web series, original music productions besides showing movies.
How Much Does Netflix Pay For Movies, Shows? (Click To Read More)
Netflix doesn't publicly disclose its deals, but from what we managed to gather around the Internet, Netflix is currently paying between $100 and $250 million for blockbuster movies, while popular TV shows with multiple seasons have budgets that range from $300 to $500 million. (Fiction Horizon)

Content
Several OTT Streaming platforms have yet to make their way into Pakistan.
When it comes to Amazon Prime, Pakistani content that breaks into the platform cannot even be watched in the home country.
Similarly, India's Zee5 began to stream web series created by Pakistani production teams including Churails, and Aik Jhooti Love Story for regional and global viewership. This is likely to be followed by the already commissioned Dhoop Ki Dewar.
Therefore Content Made in Pakistan will have to face regulations followed by controversy. In the case of 'Churails,' the regulator stepping in and terminating online subscription of payment to Zee5 is worrisome for international players. This order is based on the business flowing to a digital platform owned by an Indian company.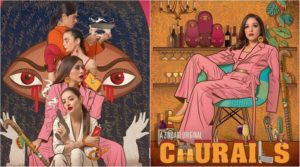 Meanwhile, "Removal and Blocking of Unlawful Online Content (Procedure, Oversight, and Safeguards) Rules 2020," under the Prevention of Electronic Crimes Act 2016. The Asia Internet Coalition is a group of global tech companies. Warning that, under these rules it would be "extremely difficult" for them, to make their services available for Pakistani users. Therefore, the international OTT Streaming players would shift their investments to other markets in Asia.

Conclusion
In conclusion, the reality in Pakistan for OTT Streaming platforms largely revolves around industry stakeholders.
Such as:
📲 Connectivity is a key barrier to widespread OTT adoption

📲 Until smartphones become more prolific
📲 Data becomes more affordable
📲 Online Payment becomes a norm
📲 The content becomes less regulated
Freemium streaming model rules so far. Hence, not translating into growth as subscription payment revenue for industry players.
*This blog is written with inputs from industry leaders.
•._.••´¯"•.¸¸.•` 🎀 𝒫𝐿𝐸𝒜𝒮𝐸 𝒞🌸𝑀𝑀𝐸𝒩𝒯 & 𝒮𝐻𝒜𝑅𝐸 𝒴☯𝒰𝑅 𝒱𝐼𝐸𝒲𝒮 (𝒴💮𝓊𝓇 𝒻𝑒𝑒𝒹𝒷𝒶𝒸𝓀 𝒽𝑒𝓁𝓅𝓈) 𝒯𝒽𝒶𝓃𝓀𝓈❣ 🎀 `•.¸¸.•"¯´••._.•